Going Dark by Monica McCarthy
Though I haven't read many romantic suspense novels, it's one of my favorite sub-genres of romance. Going Dark sounded like the perfect book for me, and I couldn't wait to get into it. Going Dark sets off with an explosive, albeit confusing prologue with a Navy SEAL's mission in Russia going wrong. It's a confusing prologue because you soon realize that the hero of the book isn't who you think it is. So be warned, as the prologue and first chapter will most likely throw readers off. Despite the confusing start, the book is an addicting read with non-stop action and revelations. It's exciting from start to finish, and will have readers salivating for more as you read through the chapters. At the center of Going Dark are two characters who are polar opposites of each other when it comes to political views, but who somehow fit together like a lock and a key. Annie, a newly minted PhD ecologist, is accompanying her boyfriend to Scotland to protest an oil-company. We soon find out that her boyfriend and his friends' plans involve more than just peaceful protests, and take a dangerous turn. Thankfully for her, she's thrown into the arms of Dan (Dean in reality), who is trying to fly under the radar after surviving the secret mission. Annie is very anti-military, pro-environment and is a vegetarian. Dean is a Southern military man with very staunch conservative beliefs. So you can imagine that these two don't always mesh together. But they find a way to compromise, and becoming understanding of each others' views throughout Going Dark. I found the inclusion of a couple with such differing views to be interesting, and also quite relevant given the current political climate. Their relationship definitely started with a lot of lust, but as the story progressed we get to see them connect emotionally as well. The chemistry between the two is smoking hot! Annie does come across as a little naive at times, but her passion for her work, and her resilience spoke to me. As for Dean himself, he's just the kind of her I enjoy in romantic suspense novels, a little on the stoic side, but also sexy as hell. The secondary cast introduced in Going Dark were even more intriguing than the main characters, in my opinion, and I can't wait to become acquainted with them as the series progresses. For now, I'm already a fan of the Lost Platoon series, and I'm excited to see what Monica McCarthy has up her sleeves for readers. Going Dark is a sexy, fun and fantastic start to what is sure to become an addicting series.
Chasing Christmas Eve by Jill Shalvis
Spence's book! Guys, I was so excited to read Chasing Christmas Eve. I've been in love with this series from Jill Shalvis from the very start, and it only seems to be getting stronger by the book. Chasing Christmas Eve is the perfect heart-warming romance, and goes to prove that Jill Shalvis is a force to be reckoned with in the romance writing community. This is an author who knows how to write lovely characters who are just full of life. I was excited that this was Spence's book because we get to be inside this genius workaholic's brain, and he was just perfect. The man does not know how to balance his work life and his social life, and has been burned by love. I admired his intelligence, and especially loved what a gentleman he was. Even though he is a little stoic and on the quiet side, he's a sweetheart who is ready to do almost anything for his friends and family. Colbie was the perfect match for him. She is escaping her family responsibilities (ones that she put on herself) in NY and has come to San Francisco to take a breather as well as to find inspiration for her book. She is a total darling herself, and I just wanted her to relax and find happiness for herself. Together, Spence and Colbie are too adorable for words. Their first meeting which involved a furry friend pushing Colbie into a fountain and Colbie's reaction to it all set the tone for their relationship  – funny, sweet and totally endearing. They are both wildly attracted to each other, and even though they know Colbie will be going back to NYC, they set off on a relationship that made my heart happy and had me melting into a puddle. All the banter, the swoons and the dates! *insert heart-eyes* I also love how significant of a role the secondary characters play in Jill Shalvis' books. Here we especially get a lot of Elle, who is fiercely protective of Spence, and so doesn't immediately take a liking to Colbie. They do eventually grow a friendship and Colbie is accepted into the main group of friends after some downs. We also get to see more bromance here which I can never be unhappy about. The San Francisco setting is as lovely as always in Chasing Christmas Eve. Honestly, this book is just perfect if you're looking for something to lighten up your mood. I can't recommend this series and this author enough if you love feel-good romances with charming characters, and breath-taking settings. Everyone deserves a good Jill Shalvis romance in their life!
Ready to Run by Lauren Layne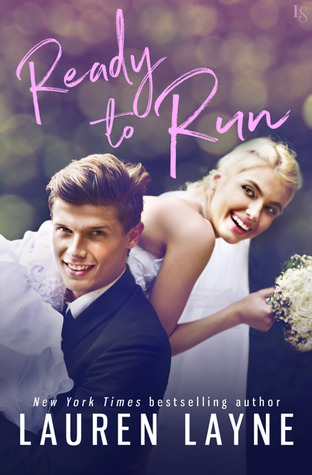 It's no secret that I'm a huge Lauren Layne fangirl, but this year her books and I have not been getting along all that well. I held out hope that Ready to Run would change that for me, but unfortunately it didn't. Ready to Run, while it possesses quintessential elements that make Layne's novels very readable, is also bland in other ways. Perhaps the biggest issue for me here are the characters. Normally, this author writes compelling voices whose happily ever after you root for. Neither Jordan nor Luke were interesting characters. Instead, I found them to be incredibly irritating. I absolutely hated how pushy Jordan came across as. The way she kept forcing herself into Luke's life in order to get him on her new Bachelor-esque show was disturbing and uncomfortable. Imagine if the genders were reversed here. You know you would 100% want the woman to get a restraining order … Other than that, I found Jordan to be self-absorbed, and a little too focused on her job. Luke isn't a character who stands out any better, in my opinion. Layne is known for writing compelling and swoony heroes, but I found Luke to be the opposite of those. He is very grumpy, and closed-off, and I didn't feel like enough time is spent in Ready to Run exploring his character, so he comes across as a boring jerk more than anything. The romance wasn't any better. It's a hate-to-love romance, what seems to be Lauren Layne's obsession lately, but it's not done all that well. There is no smooth transition from the hate to the love, and it's lacking in the banter that make Lauren Layne's romance so ship-worthy. In the end, I just don't see this couple lasting beyond the ending, which isn't a feeling you want to be left with when you finish a romance novel. All that being said, Ready to Run is still readable, and there were elements I liked such as the town setting. Overall though, Ready to Run is a miss, and I'm doubtful that I'll be continuing on with this series. We'll see!
I received all 3 books featured in this post as ARCs for review purposes. This does not affect my rating or review.
Have you read any of these? What are some of your recent favorite romance novels?
Let me know in the comments below!
Follow Us:
Follow
Related Posts