Ferocious by Paula Stokes
Winter Kim and her friends race back in this sequel and finale to the Vicarious duology, this time armed with a thirst for revenge for the deaths of her loved ones and the desire to find and protect her brother, on the streets of South Korea. Winter's dissociative identity disorder (DID) plays a much more significant role in Ferocious, and is an interesting look into the mental health illness. Though I can't speak to how authentic the representation of DID is in the book, it certainly feels like Stokes has taken her time to research the subject matter meticulously. Admittedly, the DID is used as a plot device at times, and the book could have done with a deeper look at Winter's alternate personalities, to make it come across as a stronger element of the novel. Winter's blood-thirst, determination and struggles with who she really is make her an interesting protagonist. Though she often time makes questionable decisions, she remains a likable character throughout Ferocious, and you find yourself rooting for her happiness. Her love interest, Jesse, once again plays a pivotal role in her life, often times anchoring her to her reality, and helping her feel valued and loved. While undeniably Jesse comes across as overly perfect at times, his selflessness and kindness make him hard to dislike. The romance between Winter and Jesse feels very stagnant at times throughout the book, with Winter not entirely ready to give in to her feelings and attraction to Jesse, and her focus solely being on her mission. It feels slow, but the build up makes it more realistic. Regardless, this is a romance that will most likely either satisfy fans immensely or frustrate them because of how slow it is. The mission, involving a mysterious but shady businessman, the stolen ViSE device, and Winter's brother, is at the center of Ferocious.  There are plenty of action-packed and bloody scenes, but Ferocious also has some pacing issues. Much of the middle of the book involves planning for the ultimate mission and how to take down Kyun, the businessman who has ruined Winter's life, so not a lot happens. Most of the midsection of the book involves exploring the food culture in South Korea, which admittedly was a great addition for a foodie like myself. The book is also lacking in any major surprises and feels mostly predictable. It's still a very readable sequel, and wraps up Winter's story nicely, but looking at the duology as a whole, Vicarious was the stronger book.
Fallen Heir by Erin Watt
It's never a good sign when you fall asleep in the middle of reading a book despite not being tired or sleepy. That was me with Fallen Heir. Erin Watt's Paper Princess series while wild and often times unbelievable was a well-written and addictive guilty-pleasure read. By the time Twisted Palace ended, the starry-eyed feelings I had for the series had disappeared. Despite that, the buzz about Fallen Heir being about Easton Royal got me hyped up again. Gone was the addictive, and enjoyable pace of Paper Princess. Instead, what we have here is a dull story of a teenage boy who has never been told no in his entire privileged life. Anyone going into Fallen Heir after reading Paper Princess knows that Easton Royal is a scoundrel, but a lovable one at that. Sadly, seeing how his mind works banished all those lovable qualities, in my opinion. Insufferable. Obnoxious. Unbearable. Those are the perfect words to describe this man-child, who does not seem to understand why not everyone would want to fall at his feet. The lack of character growth here made Easton even harder to stomach. His love interest, Hartley, while mildly better than him personality-wise, was just another bland version of Ella. The only difference is she's the rich daughter of the DA, and now lives alone in a run-down apartment for three years. Which brings us to her backstory. How absolutely no one is aware that the teenage daughter of a public figure is living alone in an apartment she's leasing on her own is unrealistic and too far-fetched. Readers also are not given the full picture of her background which made for an underdeveloped character. There also just isn't enough of the side characters for this book to be able to rise from the lack of complexity in the main characters, unfortunately. The romance between the two buds from a friendship, but mostly from Easton forcing "some" kind of relationship on Hartley, with the goals of eventually getting into her pants. Talk about toxic masculinity.  Unlike Reed and Ella from Paper Princess, there is no real chemistry between Easton and Hartley, so the romance winds up being a dud. The lack of plot is also glaringly obvious as Erin Watt resorts to petty teenage dramatics about revenge to move the book along. Instead of being fun, they were frustrating and pointless. Finally, the authors decide to end the book with a shocking cliffhanger to lure back readers into the sequel. The cliffhangers worked for the previous books, but here the book does not warrant a sequel. While most likely fans of the series will find enjoyment in Fallen Heir, I'd recommend readers new to this author duo to instead divert their attention to When It's Real, which is a far superior novel.
Before She Ignites by Jodi Meadows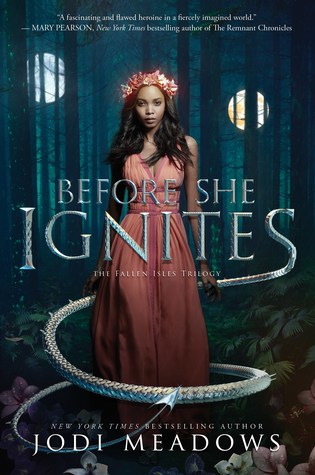 Before She Ignites reads a lot like an introduction to what could potentially become an epic series about dragons, powers and politics. As an introduction, the book does a fantastic job at presenting the world which involves the six-island nations, The Fallen Isles. Though readers are not given the full picture of how the treaty, and the dynamics between these islanders, there's just enough to satisfy and to pique our curiosity. Where Before She Ignites falters, however, is in its plot progression. Even with a first book to a trilogy, you expect the plot to move forward, but here it barely moves an inch. It starts off with Mira, the protagonist who has a peace treaty named after her, imprisoned for finding out a truth about the dragons that the islands are supposed to be protecting. For a majority of the book, Mira is imprisoned and tortured at the hands of a cruel guard who wants her secrets. It's not an easy book to read with its bleakness. It also doesn't help that for about 90% of the book we don't exactly see the heroine winning over evil. This led to some frustration, and feelings of anxiety. Things do turn around towards the end, so hopefully, in the sequel, Mira will be seen kicking butt, instead of being hurt. What we do see in copious amounts in Before She Ignites are convoluted political dynamics that will have readers flipping through the pages. The characters are also not fully fleshed out – we only see the surface of their personalities throughout Before She Ignites. While likeable, they need to be more developed to be memorable. Mira, as a protagonist, is initially weak. She certainly has good qualities to her, but it takes a while for her to come into her personality. She is someone who cares deeply about the people around her, and all of her actions and decisions revolve around others before her own health and safety. She deliberately puts herself in the face of danger to help others, and her empathy is admirable. Throughout Before She Ignites, she is still learning more about herself, and her powers, so we do not get to see her in action much, but if the ending is an indicator, we have a badass female protagonist on our hands in the sequel. Now the dragons promised in the summary of the book are sadly not all that prevalent. Sure they are constantly mentioned, but they are seen on page maybe 4 scenes total, which is quite the disappointment. All that being said, this trilogy has the potential to be incredible, and with how quickly things turned around in the last few pages, I definitely think readers should hold out hope.
I received all 3 books in this post as ARCs for review purposes. This does not affect my rating or review.
Have you read any of these books? What did you think of them?
Let me know in the comments below!
Follow Us:
Follow
Related Posts