This post contains affiliate links you can use to purchase the book. If you buy the book using that link, I will receive a small commission from the sale.
I don't really think I have what I would consider 'life changing' books, but I do have books that have impacted me in some way or another. It may not be in a life altering way, but there are certain books that have always stayed with me either because of the emotions they caused me to feel, or because it changed something for me. I'm a huge fan of rereading books, especially old favorites and when I read one of these books, it brings back all these old feelings of the first time I read the book. Here are some books that really left an impact on me:
Top 10 'Life Changing' Books:

Yep, I had to add Twilight to my list! In fact, this is the book that brought on this post. I was sitting outside with my neighbors the other day and one of my neighbors was reading a book and they got to talking about how obsessed they were about Twilight when they first read it and I was one of those Twilight obsessed readers too. Is Twilight the greatest story/love story there is? Nope, but man did it hook me in. It didn't matter that I hated Bella or that Jacob got in my nerves and it was so freaking cheesy at times, I was pretty much glued to one of the books in this series. I was already a big reader before these books made their way to my shelves, but I mostly read chick lit. I believe these were my first real Young Adult books as well as my first vampire/paranormal books and after this I just wanted to read every YA/paranormal series I could get my hands on.

Before this, I was mostly reading Sweet Valley University books (I had the whole collection). My sister came to my parents house one day and she had a stack of colorful books. Since she has an even worse memory than I do, she forgot them and I picked one up to read. My first book of the pile was The Undomestic Goddess by Sophie Kinsella and it was so freaking funny! After this I was hooked on chick lit books for a while.

One of the other books in that pile was Agnes and the Hitman. At first, I was a little bit put off because there was people with guns and the hero was a professional killer and I was like what? I thought this was a romance?! But then I quickly fell in love with this 'killer romance' type of books that reminded me so much of Jason Morgan from General Hospital. I'm not sure if most of you know, but books with killers are a weakness of mine and I have several on my favorites list and it's all thanks to this book (which is also pretty fucking hilarious!).

The last book in that pile my sister forgot (I totally kept those books, I still have them in my favorites shelf on my bookcase) is Truly Madly Yours by Rachel Gibson. Oh man, I have lost count of how many times I have read this book but I read it at least once a year. I think the last time I read it (last year) I was on re-read number 7 or 8? And it's still just as good as the first time! This book opened up my world to Rachel Gibson, one of my favorite authors, and the romance book world in general.

I read this because I was still on a vampire high after finishing the Twilight books and reading as many vampire related books I could find. Unfortunately most of them sucked (House of Night anyone??) I picked this up on a whim at Target and I wasn't very far in when I had this 'omg, this is what a good vampire series/romance is???' feeling. Rose and Dimitri 4ever! I needed more of Richelle Mead, more of her amazing characters and her brilliant world building.

After binging on books 1-3 of VA (the other books weren't on yet) I was desperate for some more Mead romance. I came across the Georgina Kincaid series on Amazon and despite the horrid covers, I ordered books 1-4 (the only ones out at the time). I didn't think a romance could top Rose and Dimitri but I was so so wrong. Georgina and Seth are the greatest love story ever and even though I read this series years ago and I've re-read it many times since then, this is still my all time favorite series.

This book is on here not for the reason you may think. When I first heard that Ed Westwick was narrating this audiobook, I NEEDED IT! I had never tried an audiobook before, in fact, I thought of them as 'cheating' when it came to reading and didn't understand how you could experience all of the book emotions simply by listening to a book. I was wrong once again. Not only was Ed Westwick an amazing narrator, but this book made me realize how awesome audiobooks are. I've read more than 200 audiobooks since then and even though I didn't really care for this book or the series, I'm still glad I heard it because it introduced me to audiobooks.

Ugh, this book. I won't lie, this book took me a while to get to. The beginning was a bit slow and I kept thinking 'what's the big deal??' considering how much hype there was. Next thing I knew, I was reading and it just hit me how much I fucking cared about this story and these damn characters. This story was beautiful and the writing was amazing. It's been a few years since I re-read this but the characters still stay with me after all this time.

I don't even know how I came across this book. I think I found it at a thrift store when I was younger and for some reason decided to give it a try (my cover is very different). Right from the beginning, this hit me right in the feels. It's an old ass book but it's so good. The romance in this book is very slow burn, it's messy and at times it's hard to root for either character because of their flaws but it was just so beautiful for me.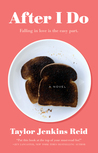 Guys, this book fucked me up real good. It was my first book by this author and like all her other books, I hated and loved every single painful word of it. She has such a way of making such a simple story so fucking emotional. Her characters are flawed and can drive you crazy at times and most of the time I don't even know what I want to happen in the book, and I hate how emotional these books make me… but I also love them. This book for me was so beautiful and sad because it lets you see the way a great relationship can slowly start to go very wrong. Holding grudges, placing blame, having resentment, those are normal things at one point or another in any relationship, but this was such a good reminder to always talk through your problems so that you don't ever get to the point that this couple did where they can't stand each other and can't even remember why they fell in love in the first place. Such a good, good book!
***
I hope you found at least one good book rec from my list. What books have you read that have had some sort of impact on you, either a small or silly impact or a big significant impact?
 Have you read any of these books yet? Let me know in the comments!
Follow Us:
Follow
Nereyda is a 31 year-old mother of two girls with addiction to Friends, fashion, books, Pinterest, Netflix, the color black and a little bit of everything else. Also, the world's worst texter...
Related Posts