Sinful Attraction by London Hale
Sinful Attraction has got to be my favorite book from London Hale to date. While it was still as steamy as the rest of their books, it had also had a sweetness to it that had my heart entirely too happy. Lola and Connor were so freaking adorable together, I wanted to smush them together. They start off the book as neighbors and good friends who are also wildly attracted to each other. But Lola doesn't think that Connor will want her when he finds out her secret that she's a sex worker. Of course she's wrong because Connor just loves every part of her, and wants to protect her at all costs. He was such a great guy, and I loved how patient, and gentle he was with her. Is there really anything sexier than a romance hero who is delicate towards his heroine?! Lola was a really great girl too. She was hardworking, dedicated, independent, but also had an innocence to her. Connor and Lola together were fantastic together. I loved the trust between the two, and oh my gosh, the chemistry! Just read it, friends. Sinful Attraction was just the perfect balance of sweet and steamy. London Hale only seem to be getting better and better at these short stories.
Tease Me Tonight by Jules Court
This was a book I requested because I liked the cover. Overall, it was a pretty decent read and I liked it enough to want to check out some of Jules Court's other books. There wasn't anything particularly spectacular about the love story between Will and Elizabeth, though I do think it had the potential to be a stronger romance had the book been a bit longer, but I wouldn't say that I didn't enjoy the book either. I found Elizabeth to be a bit frustrating at times. She's very hell-bent on not wanting more than a fling, and in the process she pushes Will away a lot. I think I would have liked the book a little better if she got over her push-and-pull attitude a little sooner. I liked Will, though again, I can't say he was exactly memorable. It was refreshing to have a male character who only wanted women in his bed. He was actually interested in building a relationship and to find love. I liked the secondary characters here, especially Will's siblings and their partners. I might have to go back and read their books. I did feel like the story wrapped up a little too soon, which took away from some of my enjoyment of the story. All in all, this was a good read!
Jilted by Sawyer Bennett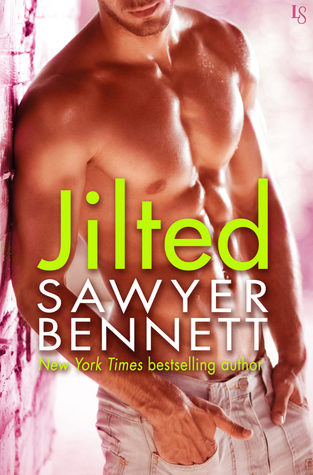 I normally like Sawyer Bennett's books and I liked the previous one in this series okay, but this was just really meh for me. I didn't feel like we got to know any of the characters well at all, and the little we did get to know, I wasn't a fan of. They just weren't characters I found myself wanting to root for. Both Eden and Coop were a little annoying, in my opinion, so I was never able to form a real connection with them. The romance was nothing more than sex. It really had no substance to it. Part of it is because this is a second chance romance, but we don't really see them re-building their relationship as much as I would have liked. I also disliked  how most of the sexy times here started in the middle of the act. If I want smut, I need it foreplay and all! There was also the stereotypical mean girl in this book and I was not having it. Some of the other secondary characters who befriend Eden were okay. So yeah, I don't particularly have more to say about Jilted, just that I didn't like it.
Have you read any of these? What are some of your recent favorite romance novels?
Let me know in the comments below!
Follow Us:
Follow
Related Posts