Lord of Lies by Amy Sandas
The Fallen Ladies series has been such a great series find for me. I've really enjoyed all these books about 3 sisters, and going into Lord of Lies, I was very excited. This was for me the best of the bunch because it checked all the right notes! Both Portia and Dell were fantastic characters, and the chemistry between them made the story even stronger. Portia was headstrong, mildly stubborn, and was ready to do anything for her loved ones. I loved her devotion, and her desire and aspirations to want to be more than just a social darling. Dell isn't the kind of hero you expect from a historical romance. Sure, he's very very rich, and his alias as the Nightshade is quite the popular figure in town, but he has no title to his name. He has no absolutely no problem with that though. Dell was my favorite type of HR, stoic, broody, but who began to slowly and subtly show his emotions around Portia. Their romance was terrific. The pages sizzled with their chemistry from the very beginning, but their romance only progressed slowly and realistically. Dell initially sees Portia as a nuisance, one that he can't stop thinking about. Soon enough she convinces him on going on adventures together to solve mysteries, and what fun it was. Like I said, Dell wasn't exactly a man with words, he still somehow managed to make me swoon. There was a lot of passion between Portia and Dell, and though he tried hard to resist, he found himself incapable of not falling for her. There's a common thread-line involving the sisters and the a man named Hale in this series, and we finally got to know more about Hale in this installment. His story was quite heartbreaking, and I really hope that we'll get a book for him because he so needs his own HEA even though he does seem to do villainous things occasionally. If you're in the mood for a historical romance that's not only deliciously swoony, but also has a story line other than the romance, I highly recommend Lord of Lies!
Irresistible You by Kate Meader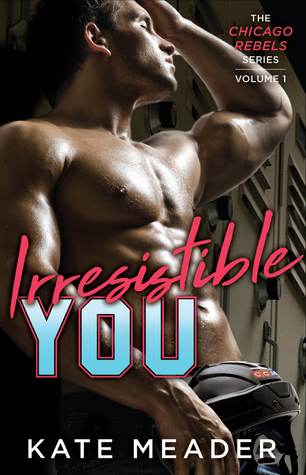 Kate Meader and hockey sounded like such a great combination, so there was zero chance that I would miss out on Irresistible You. It was exactly the kind of book I wanted! It's fun, flirty, sexy, without a lot of drama or angst. I especially loved the premise of Irresistible You with Harper and half-sisters inheriting their father's crumbling hockey team. It's not easy being a woman in a field dominated by men, and it's especially worse when it's a job that's constantly scrutinized in the media. Harper was a champ though, and she took it all in with her head held high. I loved how passionate she was about turning around the team, and how hardworking she was. She stumbled quite a bit along the way, but she never lost her motivation, which immediately made me like her. I also liked that there was a strong focus on the siblings relationship here. They all have different moms, and have never had a strong relationship, but having to manage the team brings them closer. I loved seeing their relationship blossom, and become stronger along the way. I also really enjoyed Remy's character, though I'll admit to side-eyeing him a bit in the beginning. He completely swept me off my feet though. He had that Cajun charm going on for him, and together with the fact that he was a total goner for his family, I just could not resist him. Remy and Harper formed an unlikely couple, because they aren't each other's types (or at least that's what they think), but they fit well together. In the midst of all the media limelight, Remy provides solace and fun times to Harper. Along the way, of course their flings-only relationship develops into more. I thought the progression of the romance was really sweet, with a hell of a lot of smoking hot chemistry, as I've come to expect from Kate Meader. Though I loved Remy and Harper, I have to say, there were times when I kept getting distracted by the promise of the other couples to come in the series (I presume!). I'm especially excited for Violet's book, because umm hot Scot alert! Isobel is next, and she's getting a second chance with a Russian who has a reputation of being great in the sack, but who did not quite bring her the oomph she needed when they fell into bed as horny teens. I'm so in! 😉 Irresistible You was the perfect epitome of a Kate Meader book. If you're a romance lover, no doubt this book will be one you enjoy!
Sinful Distraction by London Hale
I don't typically read books with older heroines, younger heroes. It's not something that I've encountered a lot, but I knew that I would read this one because well, London Hale. I can't say that Sinful Distraction was my favorite book in the series, because I didn't have as strong a reaction to these characters as I did the previous ones, but I still found it to be entertaining and super sexy! This installment features the romance between a phone sex operator and a mayor! Talk about politically scandalous! I enjoyed both Kate and Riley's characters. Kate was hardworking, and badass at her job, and Riley was a total sweetheart. The chemistry between them was strong from the very first phone sexy times scene, and it only continues to build up over the course of Sinful Distraction. What was mildly absent for me though was a strong emotional connection. Sure Riley and Kate do form an emotional bond, but I felt like everything happened too fast for it to possess the depth that the previous couples had. Maybe I'm just being greedy, but I wanted more of them. Their sexy times were on fire as usual and the epilogue was especially really adorable. All in all, Sinful Distraction was another fabulous addition to this novella series!
Have you read any of these? What are some of your recent favorite romance novels?
Let me know in the comments below!
Follow Us:
Follow
Related Posts