I had read Burn For Me when it first released back in 2014 and absolutely loved it. The wait for White Hot was not an easy one, but it was also well-worth the wait. I was ecstatic that Wildfire was being released the same year, but also sad that it was going to be the last book. So I decided I would binge-read these books, just to savor that ending. I honestly think I loved the series even more the second time around! I didn't want to sound redundant by writing three reviews, so I'm just going to write one big series review, and talk about all the things I've loved.
Before I get into the review, big thanks to Avon Books for the ARCs of White Hot and Wildfire.
Characters
 Without a doubt, the characters in this series are the greatest! I just don't see how anyone can dislike them. The whole cast is vibrant, and have the best personalities. You will WANT them as your BFFs, is basically what I'm trying to say. Of course, the best of the bunch was my queen, Nevada, the kickbutt, loyal and hardworking main character of the series. Nevada has always been an amazing character, but I loved how Ilona Andrews showed that even amazing characters have room for growth. As the series progressed, she learns more about her magic, which by the way, is awesome, and matures by leaps in the process. Nevada's family also plays a monumental role in the Hidden Legacy books, and oh my gosh, they are just so real. They made me laugh, scream and in general, made me very happy. The banter between them, the loyalty and the love they have for each other are central elements of the story, and it will make you love them even more. They are ready to die for each other, and I always love that kind of dedication when it comes to families! We also get to meet Nevada's new friends along the way, and I have to say, I especially enjoyed Cornelius in the final book. He has had to go through a terrible time, but he has finally learned to channel his grief into his new partnership with Nevada. His and Nevada's friendship was A+.
Mad Rogan
Yes. I know I could have just included him in the above, but I felt like dedicating a whole paragraph to him and his romance to Nevada, and so I'm going to do it. Gosh, I don't even know how to even begin describing this man. I mean, he was dangerous, scary and terrifying, and in reality, I should not have fallen for him as immediately as I did. I don't quite know what that says about me, but damn did I love all that mysterious power he had surrounding him. Of course, as the series progresses, we are privy to a lot more about Connor, and trust me, they'll only make you fall harder for him. He was a man who got things done, did not mess around, and was fiercely loyal to the people he cared about, though he rarely vocally expresses his love for them. The push and pull between him and Nevada was smoking hot. I have never loved a slow burn romance as much as I've loved Nevada and Connor's. It takes 2 full books of sexual tension, witty banter, and lusty glances before they finally begin a romantic relationship, and it was all pretty glorious. It was actually quite fun watching Mad Rogan repeatedly chase after Nevada and make propositions that she rejects because she fears for her independence. She really makes him work for it, but is there anything sexier than a big, powerful man bow down to get the woman he wants? I was a little nervous going into Wildfire that now that they had established a relationship, I would be bored by it. But not even a little bit. In fact, I think I loved them even more in that book than I ever did. The chemistry was still as strong as ever, but now they were more open about their feelings for each other, so every aspect of their relationship was heightened. Connor was still as possessive of Nevada as in the previous books, but he also respects her and listens to her. Honestly, he's the ultimate book boyfriend.
Plot & World Building
I loved how this was a series where the world building only continued to expand. It was fascinating, and I was especially intrigued by the House politics. I especially enjoyed getting to know all the possibilities of the kinds of Mages there were out there. The Hidden Legacy series is full of conspiracies, corruption, murder, danger and a whole lot of magic. And it's also a whole lot of fun. There was never a dull moment for me throughout these books, because Illona Andrews have a way with words that pulls you into a story, and keeps readers latched on to it. The action scenes involving pretty much everyone, especially Nevada, kicking butt were some of my favorite scenes, and that's saying a lot from me, a reader who rarely enjoys them in book. Though all 3 books have separate, but equally compelling story lines, there's also a common thread throughout these books that builds up, so I don't recommend reading the books out of order. I think that would just lead to confusion. I have to admit, that ending left me in a bit of a shock because it didn't tie up all the loose ends. I have my fingers crossed that that means we'll be getting spin-offs in this world. I will die if they are of Nevada's siblings and cousins, who are an absolute riot. I just need more of the Baylors!
Anyways, I know these covers are hard to look past – I mean, even the authors admit they are terrible – but honestly, if you don't, you are absolutely 100% missing out on a series that's just fantastic in every way. Even if you're not keen on UF as a genre I say give it a go, because these books are the best. All I'm saying is, READ THEM.
Individual Book Ratings 
Burn For Me : 
White Hot : 
Wildfire : 
When Danya Tortures
Danya from Fine Print and I buddy-read the last book, and we decided it would be fun to ask each other a super tough question. Here's what Danya asked me:
"If you could pick any character from the series who ISN'T Connor to be your boo, who would you choose?"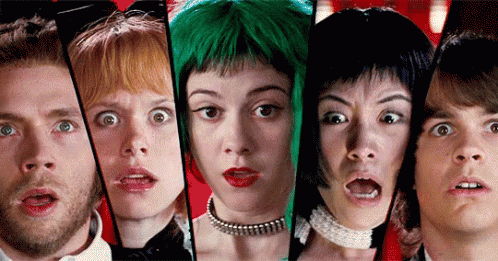 You all. What is this question? Why would she even do this to me? I feel victimized by this question because I DON'T WANT ANYONE OTHER THAN CONNOR.
Now that I'm done whining, I'll attempt to answer the question. It's tough because I do adore Nevada's cousins and would totally want them as my boos, but whoops they are too young for me. I think I'm going to go with Cornelius, though even him I'm hesitant. He really really loved his wife and he goes through a ton of grief after losing her, and by the end of the series he was still grieving. But I also can't deny just how attractive his love for his wife was. ALSO, he's a single dad.  I'm also wildly intrigued/attracted to his mage abilities – he can control animals! So yeah, I'd be down to having Cornelius as my boo, but maybe in a few years when he has had time to compute, and work through the sorrow of losing his wife.
I STILL WANT CONNOR THO.
Have you read this series yet? How about any other series by Ilona Andrews?
Let me know in the comments below!
Follow Us:
Follow
Related Posts