Daddy's Best Friend by London Hale
Oooh boy! This book was willlllldddd! I know what you're thinking. This doesn't sound like my sort of read, with that eyebrow-raising title, but I read it because I love Brighton Walsh, one of the co-authors behind London Hale, and missed her writing. I'll fully admit that this isn't a book that will work for everyone because of the big age-gap, and uhh well because the hero is her "daddy's best friend", but it was a quick, smutty and most importantly, fun book that had me fanning myself. Despite the book just being a novella, London Hale pack a punch with that steamy chemistry between Nathan and Eve. The taboo nature of their relationship only heightens up that steam factor. I was surprised by how well-developed the characters of Eve and Nathan were. They were both very likable as individuals, and I liked seeing the two of them as a couple especially.  I also loved the glimpses of Eve's dad and her best friend, who are getting their book too. Daddy's Best Friend is not the deepest or most emotional romance novel you'll read, but it's satisfying and addicting (and did I mention SMUTTY??) in many ways. I'm excited to see what this duo has up their sleeves. If it's anything as steamy as this one, BRING.IT.ON.
Ride with Me by Ruthie Knox
I went on a Ruthie Knox mini binge earlier last month and one of the books I read was Ride with Me. Man, I've become ridiculously obsessed with this author's writing and once again, Ride with Me was a stellar novel. It features one of my favorite tropes of a grumpy hero falling hard for a happy-go-lucky heroine, and has a pretty unconventional story and setting, with the cycling around the country story line. I found myself being completely enamored by this book, and from start to finish, this was a book that was almost impossible to put down. Tom was a wonderful hero, a mega-grump,  but who is dealing with the aftermath of being a rich guy who made mistakes. There were so many layers to his character, and I enjoyed watching those layers get peeled off as Ride with Me progressed. I instantly adored Lexie, who had a completely effervescent personality, with a strong sense of adventure. The banter and chemistry between Tom and Lexie was off-the-charts amazing. It had me smiling, swooning and laughing. Don't you just love it when the grumpy hero who is initially constantly annoyed by the heroine, eventually turns into a melted puddle of goo around her? There's just something about that trope that I adore, and Ruthie Knox does it well. Ride with Me was the perfect combination of hot, romantic and entertaining. 100% I would re-read this one!
Ride Hard by Laura Kaye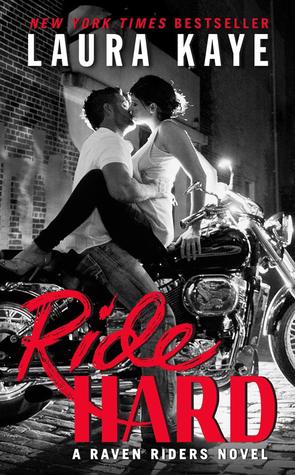 I read Ride Hard after I encountered an amazing review at Addicted to Romance, and I don't regret this purchase one bit. Let me be upfront, I'm really not a fan of motorcycle clubs romances. I personally haven't had a pleasant experience with them in the books I have read, but together with Renee's review, as well as lots of my friends raving about Laura Kaye's writing, I HAD to read it. I'm happy to say that I may finally have found a MC romance that I enjoyed. To be honest, I still found some of the MC elements of this book to be boring, but I also enjoyed aspects of it, especially how the Raven Riders provided solace to women in hairy situations. But the best part for me, without a doubt, was the romance. It was a really sweet romance that developed between Haven, a woman who has been relentlessly abused by her father, and Dare, the President of the Raven Riders. I thought this was an emotional romance that depended a lot on the slow-growing trust between Haven and Dare. Haven had a lot to overcome before she could fall into bed with some guy, but every step of the way, Dare was there for her. I found him to be so swoony, and once they did finally give in to the smoldering chemistry between the two, I was on cloud nine. I loved most of the secondary cast too. There's a especially awesome girl friendship between Cora and Haven, that I found to be so inspiring. If you're reluctant like me to try MC romances, I highly recommend trying this one. All in all, this was pretty great!
Have you read any taboo romances? What are your thoughts on MC?
Let me know in the comments below!
Follow Us:
Follow
Related Posts