Blame It On The Duke by Lenora Bell
It's official. Lenora Bell ranks at the top of my favorite historical romance authors list with along with my other HR queens, Lisa Kleypas, Tessa Dare and Sarah MacLean. I fell in love with her smart writing with her fabulous debut last year, and she has only continued to impress me. Blame It On The Duke, like the previous books in this series, was refreshing, smart, and deliciously sexy. She pens her characters with wit, charm and intelligence, and I love that she makes me instantly fall in love with her characters. I adored Alice, and her passion for wanting to travel and explore the world. And I also adored Nick, who was at first, a complete scoundrel of  a hero, who hopelessly falls in love with his heroine. The conversations between the two were funny AND laced with flirtatious moments here and there. Watching the two of them vow not to fall in love, but slowly doing exactly what they said they wouldn't do, was one of the best parts about Blame It On The Duke. I so love it when I am able to see the characters actually connect on a level that's deeper than just sex, and I saw exactly that between Nick and Alice as the book progressed. They were swoony beyond words, and I can't tell you how much I found myself shipping and rooting for them. Besides the romance, I also enjoyed the story line involving Nick's father and his apparent dementia. Alice, especially, forms a sweet bond with the old man, and she finds herself wanting to help him and Nick. If you're a fan of historical romance, and are looking for another great author to add to your list, then definitely make sure that Lenora Bell is at the top, because she is one talented writer! I can't wait to see what she comes up with next, but the wait is going to be torturous!
The Thing About Love by Julie James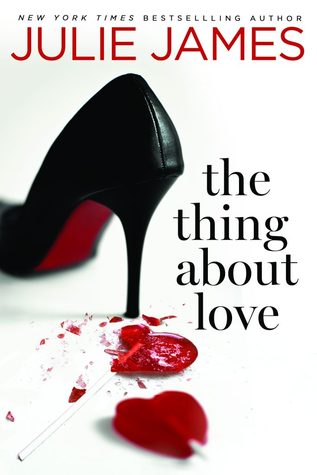 I was very excited for a new book by Julie James. She has written some of my favorite contemporary romances in the past. I'm not sure why but I found The Thing About Love to be rather boring. Usually, she writes couples with chemistry that you can almost feel on your skin, but here, while I saw the chemistry between John and Jessica from time to time, it wasn't as potent as I've come to expect from Julie James. After a while, I started to get bored with them, and ultimately, I didn't think that they stood out particularly for me. I did really enjoy the flashback scenes of them at Quantico. I thought the chemistry was definitely there between them when they were younger. I will say that both John and Jessica were likable enough characters as individuals, and they had lots of traits I found to be endearing. I particularly enjoyed John's loyalty and love for his family, and Jessica had a great bond with her siblings too. I just wished they had more of a spark together as a couple. I wasn't a big fan of the plot involving the corrupt politician either. It was predictable and once again, a little boring for me. So yeah, overall, I wasn't impressed by Julie James latest. If you're new to her books, I definitely recommend one of her older books. They are more addicting than this one was!
Royally Matched by Emma Chase
Honestly, only Emma Chase can get me to read and enjoy books about royalty. This series as a whole is different in tone from Emma Chase's other series, but it still maintains her trademark humor and sexy heroes. I was quite excited to pick up Royally Matched because I was dying for Henry to meet the woman who would bring him to his knees in Royally Chased. This one totally delivered and I had a ton of fun reading it. The connection between Henry and Sarah was palpable all throughout the book, and the chemistry that they had together was sweltering. I loved how Sarah balanced out Henry's more wild side. She allows him to bring his softer side to the surface, which turned him into an irresistible hero. And in turn, he allows her more wild side to emerge, making her more spontaneous. One of my complaints with the first book was how cheesy it could be at times. Thankfully for me, the cheese was kept to a minimum here. I was also pretty excited about the The Bachelor-esque plot line going on here. I hate-watch The Bachelor (because that's the best way to watch that show), so I was eager to see what shenanigans Henry would get into. I will say that that part of the book is very much to the background, unfortunately, but it was still fun to read about the girls who were vying for Henry's hand in marriage. Overall, Royally Matched was another sexy and fun book from Emma Chase. I don't think it's actually possible for her to write a bad book.
 Have you read any of these books or authors? Tell me about your most recent romance read!
Let me know in the comments below!
Follow Us:
Follow
Related Posts