The Adjustment by Suzanne Young
If you haven't read Suzanne Young's The Program series, then I don't know what you're doing with your life. This series has got to be one of the most original, and wildly twisty (and bonus: intensely romantic) series ever. It's unconventional given the timeline of the publication of the books and the actual timeline in the series, but it works fabulously, in my opinion. The Adjustment was a book I was eager to read, and I'm thankful to a good friend, who offered a copy. I read it in one setting and now I sort of regret not waiting closer to the release of the next book,  because holy mother of book twists! The Adjustment opens up with the heartbreaking story of how one girl, Tatum, loses her boyfriend, Weston, as a result of The Program wiping away his memories. He's back as a returner, and only he doesn't remember Tatum and his passionate relationship with her one bit. The first chunk of The Adjustment was focused on redeveloping the relationship between Tatum and Weston. As always, Suzanne Young writes romances deftly, with plenty of swoons. It was hard for the both of them, but watching them slowly rebuild their relationship throughout the book. They were total sweethearts together, and no doubt, I shipped them like crazy. I really liked them as individual characters too. They are both emotionally strong despite being a little lost because of their circumstances. I love how fiercely loyal they were and how much you get to know them as the book progressed. At the same time, Tatum learns about a potential new treatment allowing returners to regain their memories… And we all know what that means! I love how even though I was waiting for a drastic twist to make an appearance, I was still very much taken aback when it happened. I was left emotionally reeling at the end of The Adjustment, and all I can say is that I'm going to need for it to be 2018 soon because I need the next book! The Adjustment was another terrific addition to The Program series, and if you're looking for an emotional and unique YA series, I say go for this one.
The Missing by Kelley Armstrong
Having very much enjoyed Kelley Armstrong's YA thriller, The Masked Truth, I was eagerly looking forward to her second foray into the genre. It's not a genre that I particularly find myself gravitating towards, but Armstrong writes it well. I was initially taken aback by the heroine, Winter, here, because she's so unconventional. She lives in the woods by herself and basically hunts for her own food. That's not your typical YA protagonist for sure. As the story progressed, she began to shed that tough exterior, and we see her vulnerabilities, which I thought made her even more interesting as a character. I wasn't as enamored with Jude, her love interest, and brother of the missing boy, but he grew on me the further Armstrong dug into his character. While I could totally see how Winter and Jude would fit well as a couple, I can't say I had particularly strong feelings for them as a couple. What I did enjoy were the setting, which the author absolutely brought to life, and the mystery, that was cleverly executed. It had twists and turns that I didn't see coming and that I totally appreciated. Missing is a book I certainly recommend if you enjoy mysteries and thrillers.
Things I Should Have Known by Kelley Armstrong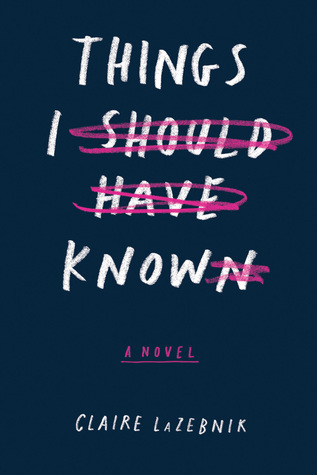 I've really liked Claire LaZebnik's books in the past, so I had to read Things I Should Have Known. I was especially interested in it because the protagonist's sister is on the autism spectrum. I have to say, even though I wasn't wowed by the book overall, I thought Ivy totally stole the show from her sister, Chloe in the book. I didn't find Chloe to be all that particularly interesting. Besides Ivy, there wasn't much that made her stand out for me. I will say that I enjoyed how loyal, kind and patient she was with Ivy. I haven't read a book that explores autism as intimately as Things I Should Have Known did, and I really appreciated how much I learned about the condition from the book. LaZebnik did not hold back with the portrayal here. She showed just how difficult it can be to keep an eye out on someone with autism, but she also showed the beautiful side to these individuals through Ivy. It was lovely watching Ivy discover more about herself, her sexuality and relationships throughout the book, which is why I think Things I Should Have Known could have been far better had it been written in her POV instead of Chloe's. We also get to know David, a boy  who Chloe doesn't particularly get along with, but who she discovers is the brother of Ivy's friend from school, that she decides to match up. Like with Chloe, I admired David, but I can't say that he brought about any strong feelings in me. I did love Ethan and his enthusiasm for movies and his talkative nature. As you can tell, family plays a big role in Things I Should Have Known. It was explored well, in my opinion, and one of the highlights of the book for me. Overall, Things I Should Have Known was a knowledgeable book for me. I only wish it had been written in the voice of the secondary characters instead of the main ones here.
Have you read any books from this list?
Let me know in the comments below!
Follow Us:
Follow
Related Posts