Happy Saturday everyone!
Lately I've been reading a bunch of books that don't release for a while, which also means I won't write full reviews for them until closer to release date. BUT, there are some books that I can't stop thinking about and that I want to shout out my love for at the top of my lungs. So I've decided that I'll be occasionally posting quick mini pre-release reviews so that I can either put these books on your radar, or convince you to pre-order them. These four books that I'm featuring today were all outstanding reads, and I hope you'll consider buying them or already putting holds on them at your library.
When Dimple Met Rishi by Sandhya Menon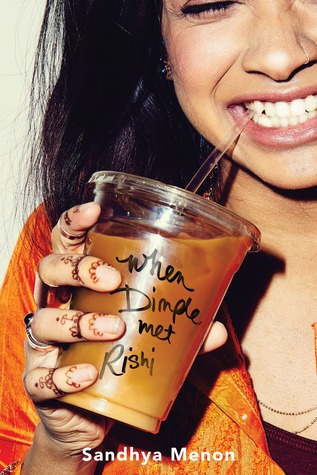 So this book. THIS BOOK. When I first held the book in my hands I actually cried a little because I had an emotional moment to seeing a brown Southeast Asian girl on a YA cover. I didn't wait very long to pick it up, and I'm thrilled because this book is easily one of my favorites of the year! Here are some of my quick thoughts on When Dimple Met Rishi:
-Dimple is a terrific heroine. She's smart, level headed and so passionate. As a daughter of South Asian immigrants, I saw so much of myself in her, especially her thoughts of not really fitting in anywhere.
– RISHI PATEL IS MINE AND I WILL LEGIT FIGHT YOU FOR HIM.
In all seriousness, I NEED more nice boys like Rishi in my books. He was sweet and charming and just the greatest. And I loooove that he was the more romantic one out of the two. The boy made me swoon so hard!
– I love the incorporation of Indian culture and I totally adored the homage to the Bollywood movies.
-The ship is one of the shippiest ships of all time. These two dorkballs were EVERYTHING. There were so many swoony kisses and so many shippy moments! I can't stop and won't stop flailing over them!
-When Dimple Met Rishi was also very sex positive YA, that discussed the expectations that culture poses on you v/s what you want in a very thoughtful way.
Alex, Approximately by Jenn Bennett
Alex, Approximately was yet another book I was ridiculously excited about, so I didn't hesitate to jump into the book as soon as I received a copy. Yet again, Jenn Bennett, a favorite author, has proven just how talented she is. If you enjoyed The Anatomical Shape of a Heart/Night Owls, then you're in for another amazing book by this wonderful author. Here are some things you can expect to find from this book:
– A heroine whose voice just works in every way. Bailey was a lovely character and I saw so much of myself in here.
-An awesome girl friendship  between Bailey and Grace, who seriously were the best together.
– An OTP that squeezed my heart and made me swoon so hard. Seriously, I am melting just thinking about them!
– THE BOY – ohmygoodnesswherecanifindaPorter????? – I'm going to let you discover more of him on your own. 😉
– A super sex positive YA and there's an even a scene with girl masturbation – teens need to see this more in YA to show them that there's nothing wrong or sinful in pleasuring oneself.
– A really great father-daughter bond
– A lovely beachsetting and quirky museum
Letters to the Lost by Brigid Kemmerer
I've been a huge fan of Brigid Kemmerer's books for a while now, but I have to say reading Letters to the Lost was a whole other experience for me. I was engrossed in Juliet and Declan's story from start to finish. THIS is exactly the kind of YA contemporary that I love reading, with the perfect dash of angst and romance, written so so well.
Here's what you can expect from Letters to the Lost:
– Gorgeously fleshed-out characters – both Juliet and Declan had voices that held me hooked to the story from start to finish. Their stories are full of grief, but also lots of hope.
– Side characters and friends that were just as developed as the protagonists. I particularly loved Rev and his friendship with Declan. Side-note, Brigid Kemmerer is writing his book too!
-A love story that will squeeze your heart and that develops through letters. I'm a sucker for letters in books or romances that start off as penpals and here, it was quite possibly the best aspect of the story.
-Complex and very real  family dynamics.
-Tears. Lots of em.
Changes in Latitudes by Jen Malone
I discovered Jen Malone through her book, Wanderlost, last year and I fell hopelessly in love with her writing and her swoony book boy. Like all of the previously mentioned books, Changes in Latitudes was one of my most anticipated reads of 2017 and it lived up to all my expectations. Once more, Jen Malone has written a charming story with a lot of heart.
Here are some points that might convince you to buy the book:
– Cassie was very very relateable as a teen. She's angry at a lot of things and I thought that would make it difficult to connect with her at first, but there was something that about her anger that I found realistic. I think why it works here is because you see why she's angry and you understand why she's angry and at the same time, if you were in her place, you would also be angry. She's dealing with a lot of changes in life, and this is the story of her adjusting to these changes and learning to accept them.
– Changes in Latitudes was another terrific story with very complex family dynamics. I was particularly fond of Cassie's relationship with her mother. There were ups and lots of downs, and Jen Malone did a great job at writing this mother-daughter bond.
– The boyyyyyyy! OMGGGGG! He charmed me from the very first meeting and the more the story progressed, the more obsessed I became with him. Jonah was the sweetest and the swooniest. And as expected, the romance was just wonderful with a lots of swoony moments and delicious kisses!
– An ocean trip with lots of descriptions of sights and scenes and even a meeting with some fun dolphins.
Have I convinced you to read any of these books? Which book are you most looking forward to?
Let me know in the comments below!
Follow Us:
Follow
Related Posts