I don't know about you guys, but one of the reasons I love to read is to get lost in a different world for a few hours/days. I of course want a great story, amazing characters and beautiful writing… but sometimes, I just want a story that I just enjoy. It doesn't have to be unique, original or have the most eloquent writing because sometimes other things like passion and chemistry are more important to me. Other times, I also happen to enjoy the hell out of a funny book.  Especially if it's a funny romance book. I feel like that line between romance and humor can be a hard equation to get just right, but I love finding those kinds of books. There's nothing better than being able to laugh and swoon with a book. Here are some of my favorite funny books that have a whole lot of humor and a lot of that yummy chemistry I love.  Romance books don't have to always be serious and dramatic and funny books can be super hot!
My Top 10 Favorite Funny/Romance Books:

Agnes  & the Hitman
This is one of my ultimate comfort books and one of the books I have reread the most. I'm on reread #6 I think and I'm waiting for Nick to get a copy so I can reread it again with her. Jennifer Crusie writes some of the funniest and no-filter heroines who make her books so much fun. Cranky Agnes is no exception. I love her feisty attitude, her ability to defend herself with a frying pan, take unexpected events as they come, deal with problem weddings, crazy flamingos, killers on the loose and and still manage to seduce the hitman that's supposed to be protecting her. The fact that she does this while feeding a small army of friends every night awes me.  I love, love, love this book. Not only is it laugh out loud funny, but it's also hot as hell. Jennifer Crusie is chick lit at its best!

Manhunting
Another one of my Crusie favorites! Manhunting is the hilarious story of Kate who is career driven and wants a man, but has no time or patience to find a good one. She decides to go to a resort that is famous for having the best eligible bachelors. While she should be spending her time looking up possible prospects, she instead spends her days fishing with the hotel maintenance guy who is a bit too laid back and has no interest in settling down. When Kate isn't spending her days sleeping on a boat with Jake, she's accidentally maiming the male population of the hotel…some intentional, some not. This has such a great slow burn romance that sneaks up on you (and them!) and I loved how funny and hot this was.

Bet Me
Didn't I tell you Jennifer Crusie was great at chick lits?? Here's more proof. Bet Me features the lovely and feisty Minerva Dobbs who loves food a little too much, the sweet guy who may have accidentally made a bet on getting a date with her, his fetish with her shoes, her love of chicken marsala and their crazy group of friends. I recently reread this with Nick a few months ago and loved remembering how much I liked the book and how much it made me laugh.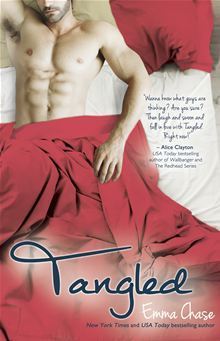 Tangled
Holy shit, do love interests get any better and funnier than Drew Evans??? I don't think so. I loved this book so much, even better on audio (hello Sebastian York!) and Drew was a big part of that. He is such an ass at times but the fact that he really means no harm (most of the time) kind of makes it hard to hate him. This whole book is freaking hilarious. I may have almost crashed while listening to the Thanksgiving scene while I was driving a few years ago because I was laughing so much…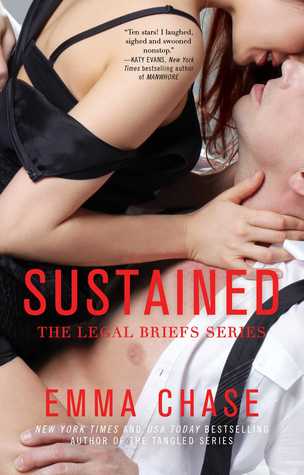 Sustained
If you know me, you probably know I despise books with kids. Somehow, despite the fact that this book features 6 kids, I fucking love it! Sustained is so funny and I can't help but love all the damn kids in this book. This book is sexy and hilarious and definitely a fun read!

Wallbanger
This book is such a weird mix of humor and some damn good sexy times. Some of it is a bit over the top, bt it somehow works for this book. Warning: this book will make you hungry with all the baking that's happening. There's also a lot of baking/foreplay action going on which is just fun. Not to mention a whole lot of funny text messages, lots of flirting, more kissing and a cat who has had enough of all these people and their stubborn attitude.

Mai Tai'd Up
This book was a bit more toned down than Walbanger, but just as fun! Chloe was such a fun character who had no filter at times. I almost choked on whatever I was drinking when I came across this line: 'If I was going to have a life of air and nothing, I'd at least like a big fat dick to bounce on.'  I thought she would annoy me since she had just left someone at the altar, but she was such a great character. The romance in this one is very slow burn too, the kind where you're just dying for them to realize/admit that they are crazy for each other.

Can You Keep a Secret?
If you guys haven't read this book yet, you really must! This book is so. fucking. funny! This is one of the books that I always recommend to other people, especially people who aren't usual readers because you can never go wrong with this. I mademy coworker read this and she would sneak read at work and I could just hear her laughing from her desk while reading this. Sophie Kinsella's books are always fun, although the Shopaholic ones can get sily, but this is definitely my favorite. One that I love to re-read.

The Undomestic Goddess
Another funny book by Sophie Kinsella. This was actually my first book by her and I just remember loving it so much. Samantha was such a fun and at times goofy character with a big heart and good intentions. I loved the friendship and romance in this book and Samantha's growth through the story.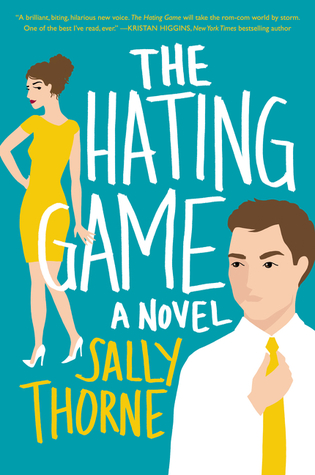 The Hating Game
Ah this book was such a nice surprise! I was hesitant on this one cause of that goofy cover and hype, but it was so good. Not only was the romance good, but it was also a lot of fun. I loved Lucy's internal thoughts and her and Joshua's childish but funny games. The chemistry was so great between them as were their little jabs and insults to each other.
Honorable Mentions:


Tied is hilarious, so is Sidebarred, both are just so much fun! Shark Bait is an older indie YA which was really good, sadly, I despised book 3. Finding Audrey is also YA and not much romance but very funny.
Do you ever read funny romance books? Or just funny books? What are your favorites? Have you read any from my list or have any recs for me?  Let me know in the comments!
Follow Us:
Follow
Nereyda is a 31 year-old mother of two girls with addiction to Friends, fashion, books, Pinterest, Netflix, the color black and a little bit of everything else. Also, the world's worst texter...
Related Posts